Georg Philipp Telemann, whose music was admired in his lifetime in every corner of Europe, and whom contemporaries called "the peerless master," is making a grand new entrance in Philadelphia during Telemann 360°. Tempesta performs Telemann's rarely heard concerti-suites for orchestra, quartets and trios from the libraries of his most discerning friends and peers, plus some fresh rediscoveries, one of which was performed in colonial Pennsylvania during Telemann's lifetime.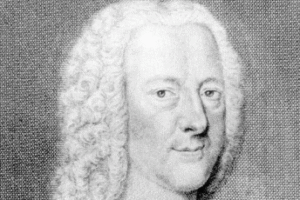 Blog Post: Who was Georg Philipp Telemann?
Born in Magdeburg, Germany, Telemann was the most revered and performed composer in the world during the high baroque. Fellow-composers Johann Sebastian Bach and George Frideric Handel were admiring friends. Hamburg-based composer, theorist, critic and diplomat, Johann Mattheson proclaimed, "Lully fame has won, Corelli may be praised, but Telemann alone above all praise is raised."
Telemann was idolized across Europe. He was offered—and turned down— such prestigious appointments as music director of Leipzig's St Thomas Church, a post that eventually went to J. S. Bach. He prodigiously self-published and practically invented the subscription model. A self-made man, he had a thriving career.
But baroque music fell out of fashion in the late 18th century and Telemann's star waned. The composer's fading from public consciousness may have been compounded by human fickleness, fandom and the capriciousness of celebrity. Bach and Handel have long since enjoyed their renaissance, and for many of today's international baroque music specialists, particularly in Europe, Telemann has resumed his reputation at the top of the musical food chain, but it remains more elusive in America.
With Telemann 360°, Tempesta di Mare will challenge lingering prejudice musically and otherwise, demonstrating the composer's "incredible variety of character and nuance, melody and invention," comments Tempesta co-director Gwyn Roberts, continuing, "and he's going to continue surprising us."
At the heart of Telemann 360° are two Tempesta di Mare concerts, one chamber and one orchestral, that together span the composer's entire compositional career and offer a variety of musical styles and genres.
On October 13, 2017, The Faithful Music Master surveys a selection of instrumental quartets and trio sonatas paired with the modern premiere of the cantata Ei nun, mein lieber Jesu, a work with Philadelphia and Telemann-in-his-lifetime connections: the score arrived via the Port of Philadelphia and was performed in nearby Lancaster's Trinity Lutheran Church in 1766.
On October 14, 2017, Fire & Invention will convene Tempesta's largest ensemble to date, a 32-piece orchestra emulating the renowned baroque-era Dresden Hofkapelle. The program includes two rarely performed concertos-en-suite, which "represent one of Telemann's most important and influential contributions to the German mixed-style" (Steven Zohn: Music for a Mixed Taste), and notable for their colorful and vivid orchestrations. The concert also includes the modern premieres of a set of Entr'actes recently identified by Steven Zohn as Telemann's, from the personal collection of Dresden Hofkapelle concertmaster Johann Georg Pisendel, a long-time friend of Telemann. Tempesta di Mare is creating the first modern performing edition of this work in house.