Baroque music is powerful and profound, JOYFUL AND accessible.
Above all, it is worthy of your continual exploration.
With every performance, Tempesta di Mare creates a sense of discovery. This stems from Tempesta's signature interpretive approach to baroque music as a dramatic, rhetorical craft—like oration and acting—an approach shared by the composers and performers when the music was new.
It also comes from Tempesta's commitment to innovative programming—a point of distinction for our audience and in our field, as well as for our broadcasters and record label—which has resulted in over 30 modern world premieres of lost or forgotten baroque masterpieces.
Once curated, resurrected and reimagined, Tempesta's music is broadly shared worldwide through live performances, radio broadcasts, CD recordings and video. We invite you to experience select samplings below.
In the U.S., Tempesta can be heard on APM's Performance Today, and on our partnering broadcast station, WWFM.
VIDEO CLIPS
AUDIO CLIPS
ORCHESTRAL PERFORMANCES
CHAMBER PERFORMANCES
JOHANN SEBASTIAN BACH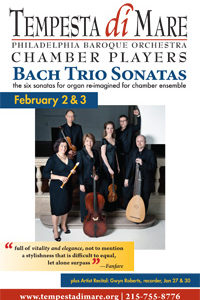 PHILIPP HEINRICH ERLEBACH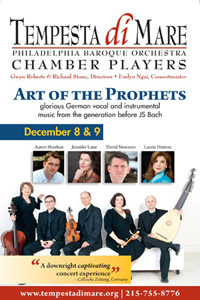 GEORG PHILIPP TELEMANN