EVENT DATES: October 8
$40 (adults), $28 (children 12 and under)
Running Time: 3 Hours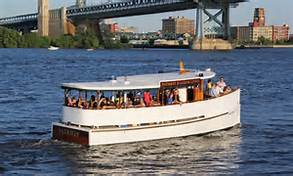 Join us on board the Liberty for a river cruise down the tidal Schuylkill, and learn about the fascinating connections between Bartram's Garden and baroque Germany's favorite composer Georg Philipp Telemann. The focus of this 3-hour tour is the story of Telemann as an amateur botanist, whose extensive flower collection from his 1742 garden is mirrored in the Philadelphia garden of the Bartram family. Joel Fry, Bartram's Garden Curator, will host the group at Bartram's Garden and will provide a special Telemann garden tour.
Bartram's Garden was the home of America's first great botanist, John Bartram. During your 2-hour stay at the garden, you will have the opportunity to stroll a 1/4 mile walk up the natural meadow and to take in amazing views of Philadelphia's skyline. You can also explore the newly restored 1731 house, historic garden, community farm, and recreational trail.
Telemann 360° – Bartram's Garden Cruise, is a collaboration with Philadelphia Baroque Orchestra Tempesta di Mare, Patriot Harbor Lines and Bartram's Garden.
The Liberty is a reproduction of a classic 1920s mini commuter yacht. It is U.S. Coast Guard-approved vessel and features wrap-around seating, a fully equipped bar, and restroom. The stern is sheltered yet open and allows guests to take in all the interesting sights along the way!
Important Note
Bartram's Garden is a hidden jewel of the Fairmount Park System; however, it is not a landscaped garden. It is a natural wonder in an urban landscape where you step back in time to imagine what Philadelphia was like over 300 years ago. The tour includes time to explore on your own or to spread out a picnic.
Meeting Location
Walnut Street Dock at Schuylkill Banks – the Walnut Street Dock is located adjacent to the Walnut Street Pier – for more details click here
Parking
For parking at Schuylkill Banks click here