from: San Francisco Classical Voice
One of the most celebrated and prolific composers of the German Baroque, his mastery of many styles and incredible ingenuity and inventiveness have brought him renewed popularity.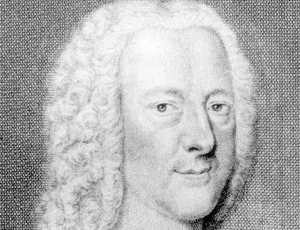 VITAL STATISTICS
Born: Magdeburg, March 14, 1681
Died: Hamburg, June 25, 1767
Nationality: German
Performed as: Violinist, keyboardist, singer, and more
During the composer's lifetime: The War of the Spanish Succession rages, and is followed by The War of Austrian Succession, during which the Kingdom of Prussia emerges as a major European power, and Gabriel Fahrenheit constructs his mercury thermometer.
BIOGRAPHICAL OUTLINE
Maverick 1681-1700: Unlike many 18th-century musicians, Telemann does not come from a musical family, but a clerical one. Georg is largely self-taught, except for singing lessons as a 10-year old and keyboard studies for two weeks. By the age of 12, he has taught himself to play three other instruments and composed an opera. His mother forbids him to study music any further, but he continues secretly on his own.
University and first gig, 1701-1705: He studies law at Leipzig. But within a year, he becomes the director of the Leipzig opera, is composing for the two major churches in Leipzig, and soon becomes organist at the Neukirche (New Church).
Upwardly mobile, 1705-11: In 1705, Telemann becomes Kapellmeister to Count Erdmann II in Sorau (now in Poland), where he studies French music and begins visiting other European courts, in cities. Around 1708, he becomes Concert Master to Duke Johann Wilhelm of Saxe-Eisenach (J.S. Bach's birthplace).
"Downwardly" mobile: By 1711, Telemann has tired of working in the courts, and successfully applies for the post of city director of music and Capellmeister of Frankfurt. He experiences a religious awakening.
Civic life, 1711-20: In Frankfurt, Telemann relishes civic music making with dedicated amateurs and professionals, reviving the Collegium musicum there for weekly public concerts. In addition he provides weekly music to the city's churches, teaches 6-8 schoolboys and supervises music instruction at the Latin School, and composes and performs music for public occasions. In 1714, he marries the 16-year-old daughter of the city clerk. They have eight sons and one daughter.
Publishing career: Telemann, a savvy businessman begins to publish his own work in 1715. From 1725 on, he successfully oversees every stage of publication, from engraving to printing to sales.
Full Slate, 1721-1738: Telemann becomes general music director for the city of Hamburg. The duties are like Frankfurt's but requiring more music. In 1722, in addition, he takes on the direction of the Collegium musicum and the Hamburg Opera at the Gänsemarkt (Goose Market), which he runs until it closes in 1737. By 1725, his marriage is in trouble and his wife runs up heavy gambling debts that he is forced to pay off. In 1737-38, Telemann spends eight months in Paris securing a 20-year publishing privilege in France, and prints more of his music.
Later Life, 1740-1767: In semi-retirement, Telemann devotes himself to writing theoretical treatises. He turns into an avid gardener. After the death of his son in 1755, he raises his grandson. At the age of 74 he begins to write sacred oratorios for fun. He remains mentally sharp until the end of his days.