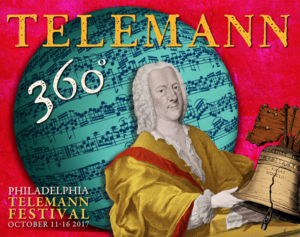 Philadelphia Baroque Orchestra Tempesta di Mare announces Telemann 360º, the October 2017 multidisciplinary week of events celebrating the life, times and oeuvre of German baroque composer Georg Philipp Telemann during the 250th anniversary of his death.
Georg Philipp Telemann (1681 – 1767) was revered during his lifetime as equal if not superior to Johann Sebastian Bach and George Frideric Handel, composers whose reputations have long since eclipsed that of their colleague. The reason for Telemann's fading from public consciousness may lie in the fickleness of fame and celebrity. After baroque music fell out of fashion in the late 18th-century, Bach and Handel eventually enjoyed a renaissance in the 19th- and early 20th-centuries, but Telemann's re-ascendance has had to wait. For many of today's international Baroque music specialists, particularly in Europe, Telemann has resumed his position at the top of the pantheon, but it remains more elusive in America. With Telemann 360º, Tempesta di Mare will challenge this prejudice both musically and intellectually.
Between October 11 – 19, 2017, Tempesta will perform two all-Telemann programs with our largest ensemble to date, including modern premieres; sponsor a live interdisciplinary talk show, The Case for Telemann—hosted by Live from Lincoln Center's Fred Child with prominent international scholars and journalists—and collaborate with fellow-Philadelphia institutions on the first international Telemann conference to take place in America, mirroring the 24-year-old annual event in Magdeburg, Germany, Telemann's birthplace. Pop-up events at museums, libraries and gardens across Philadelphia will add to the fun.
"We are thrilled for this opportunity to take one of Tempesta's signature 'deep dives' into the music and mind of Telemann," says Tempesta di Mare's artistic co-director Gwyn Roberts. "Given the matchless stylistic variety, superb quality and prodigious output of the most revered of all German baroque composers, this promises to be our deepest and most rewarding dive yet."
The press release for this project can be found here. For more information contact: Melanne Mueller: melanne@musiccointernational.com
Major support for Telemann 360º has been provided by The Pew Center for Arts & Heritage, with additional support from The Presser Foundation, The William Penn Foundation and the Paul M. Angell Foundation.