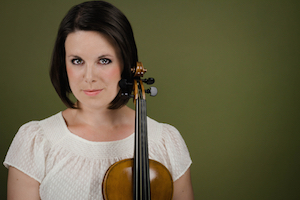 "As an expat, I'm interested in what happens to artists' work when they end up in different places than where they begin."
Rebecca Harris, Principal Second Violin
joined Tempesta di Mare in 2006 
***
Tell us about the instrument you are playing. Where is it from? Who built it? What made you fall in love with it?
It was made by Sebastian Dalinger in Vienna in 1794. Daligner's workshop was located on Himmelpfortgaße, where Mozart and Beethoven performed, and Beethoven owned a viola made by him. The connections that this violin has to the period of music history closest to my heart make me feel extremely fortunate to be passing through its life!
Of all the Tempesta's rediscoveries, which one has been the most exciting for you?
'Bohemian Rhapsodie' (May 2017) was absolutely fascinating. As an expat, I'm interested in what happens to artists' work when they end up in different places than where they begin, and in this case, it was particularly poignant to discover and perform real masterpieces by composers who were displaced by war. (Note: the program featured music by Czechs Pavel Josef Vejvanovsky, Jan Dismas Zelenka, Franisek Benda and Václav Antonin Stamitz)
Do you have a favorite Tempesta moment or concert?
Our 2011 orchestral tour to Germany is a very happy memory – beautiful concerts, a real Schubertian trout river, the pilgrimage to Leipzig to pay homage with Bach, and all with some of my most beloved colleagues.
What's your favorite Philadelphia restaurant?
Sassafras, on 2nd street – it still has its original Victorian interior, and spent some time as a speakeasy during Prohibition. It's really cozy, and my favorite place to unwind after a concert.
You are also a painter! How does music and performing inspire your art?
Usually something about what I'm playing at the time leads me to paint or draw – it's another method of meditating on ideas, away from the violin.
You recently recorded your first solo CD for which you commissioned two new pieces for baroque violin and lute. But you also perform on modern violin. How is your baroque violin brain and modern violin brain different or similar?
I don't feel any sense of adjustment to one instrument or the other, they feel like different sides of the same coin. Playing new music for period instruments is a truly absorbing experience, because it invites all sorts of questions about the relationship of the instrument to performance practice, and how our ideas about those things are developing in the 21st century.
You are a SEPTA rider. Do you have a story to share?
I regularly ride the Route 34 trolley from my home in West Philly, which has an operator called Mike Fuller who is affectionately known as the 'trolley poet'. He makes the station announcements with all kinds of funny, creative, lyrical short poems. You never know when you'll get to ride on his trolley, but when you do, it makes your day!